EDIZIONE INGLESE





WELCOME TO THE WORLD OF the American musical theatre - well, our look at that world. anywav. Our primary goal in writing this book was to examine the ice-year-plus history of the Broadwav musical in all its glorious variety. We had no intention of creating a definitive history, though ma nv of the great shows (more than just the Doi feat ured ones) and hundreds of significant artists are covered one way or another trough out this pages. We like to think of this book as a celebration of the countless wonderful performers, directors, songwriters, li brettists, designers, and producers who have enriched the trite American art form.
Before we go any further we'd like to point out that our book's subtitle includes the word "Createst" rather than "Best." Not all of the musicals in this book would appear on our "best" list, but each show has been selected because it was extremely popular and/or groundbreaking in some way, and has had an undeniable influence ori the forni. Admittedly, it is subjective list (as all lists are), and we understand that your list would certainly differ from ours. The only real ground ride we set for ourselves in selecting the shows was that we wouldn't include any musical whose score was originally eomposed for another project (a film, for example), thereby eliminating such worthv shows as The Lion King, Crazy for You, and Ain't Misbehavin. As it turned out, we have included a roughly equa! nmnber of shows from each decade - and we 'n'ade a concerted effort to include every sub-genre of musical theatre, from the operetta to the big book musical to the revue.
ln addition to the lei featured shows, we've included some special chapters on subjects that deserve attention and are not fully covered elsewhere, such as Origina! Cast Albums, Guilty Pleasures, Off Broadway Shows, Posters, and Broadway Theatres. We ve also included at least one sidebar per show that spotlights a particular artist, producer, or evcn theatre. We didn't have tuoni for all of the features and sidebars we would have liked to include, but we tried hard to cover the important people, places, and institutions of the American musical theatre.
We made a concerted effort to avoid using photos that have been published over and over again, and are very proud that the vast majority of photos in this book are bcing seert bere for the first time anywhere. We hope that the hundreds of marvelous archival photographs provide a real sense of how Broadwav has looked over its rich history. We can't go back in time to see the
opening night of Show Boat or South Pacifiebut illese photos should beli) evoke the experience.
Youll notice that in writing the text, particularly in the Backstage items and pitoto captions. we've Lept our tongues firmly in our cheeks. A li hough we're serious abolit our love or musical theatre, there's no point in being too serious. We also want to rejoice in the sometimes ridiculous. over-the-top siile of the musical theatre - which is, after all, a forni of popular entertainment.
Any book of this size and detai I is hound to have a mistake or two, thougll we've t ricci hard to avoid them. We welcome alt comments - pro or con - and correetions (care of our publisl ler. whose address is listed on the copyright page), and promise to fix any errors we are made aware of in future editions.
We truly hope you enjoy revisiting your favorite shows, becoming acquainted with new ones, and recalling the great songs, stories, and stars of the Broadway musical.
CONTENTS

Foreword
Introduction
Annie
Annie GetYour Gun
Anything Goes
Great Scores from So-So Shows
As Thousands Cheer
Babes in Arms
Babes in Toyland
Revues, Part I
The Band Wagon
Bells Are Ringing
Bloomer Girl
The Boys from Syracuse
Brigadoon
Bye Bye Birdie
Cabaret
Star Tums, Part I
Carnival!
Carousel
Cats
Chicago
A Chorus Line
T & A,Part I
City of Angels
Company
A Connecticut Yankee
Damn Yankees
The Desert Song
Destry Rides Again
Do Re Mi
Dreamgirls
Cast Albums
Du Barry Was a Lady
Evita
Fanny
Off Broadway, Part I
Fiddler on the Roof
Finian's Rainbow
Fiorello!
Follies
Flops, Part I
The Full Monty
Funny Face
Funny Girl
A Funny Thing Happened on the Way to the Forum
Gentlemen Prefer Blondes
George White's Scandals of 1931
Girl Crazy
Stars Who Tried to Conquer Musicals
Good News
Grand Hotel
Al Jolson
Guys and Dolls
Gypsy
Hair
Hello, Dolly!
How to Succeed in Business Without Really Trying
I Can Get It for You Wholesale
Guilty Pleasures
The King and I
Kismet
Kiss Me, Kate
[..]

Index
Photo Credits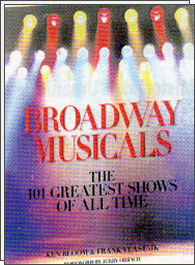 ---


BROADWAY MUSICALS

editore BLACK DOG & LEVENTHAL
edizione 2004
pagine 336
formato 27,5x32,5
cartonato con sovracoperta a colori
tempo medio evasione ordine
5 giorni

45.00 €
22.50 €

ISBN : 1-57912-390-2
EAN : 9781579123901

---