EDIZIONE INGLESE




An indispensable guide for a complete visit to the most beautiful city in the world, through thematic routes, historical information and curiosities. A rich iconographic apparatus accompanies the tourist to discover the beauties of the Eternal City.

Rome welcomes hundreds of thousands of tourists each year, each with different needs and desires. This guide, thanks to an intelligent and rigorous division into chapters, is able to give the right answers to every visitor.
A rich map attached to the volume, in color and very detailed, makes it easier to use the guide.

.


CONTENTS

VISIT TO THE SEVEN CHURCHES
The Jubilee Basilicas
The Birth of the Basilica, V • The Structure
The Visit

ANCIENT ROME
The 'Area Sacra" of Piazza Argentina
The Roman Forum, 4 • The Palatine
The Altar of Peace and the Mausoleum of Augustus
The Column of Marcus Aurelius
The Imperial Fora, 28 • The Pantheon
The Via Appia, 40 • The Catacombs
Tiber Island

MEDIAEVAL ROME
St. Constance and St. Agnes
The Mosaic
Church of Sts. Cosmos and Damian
The Celio
From the Aventine to Trastevere
The Cosmati
Private Homes and Towers
St. Paul's outide the Walls
The Cloisters

PAPAL ROME
The Vatican
Castel SantAngelo
The Campidoglio
The Tempie of Bramante
Private Building
The Farnesina
The Rome of Sixtus V
The Obelisks
The Borghese Gallery
The Fountains

BAROQUE ROME
Borromini's Rome
Caravaggio's Rome
Bernini's Rome
The Villas

ROME IN THE 1700's
St. Mary Magdala
Piazza di Spagna
Palazzo della Consulta
S. Gallicano

MODERN ROME
The Age of Umberto
The Fascist Years
The National Gallery of Modern Art
Other Places of Religious Interest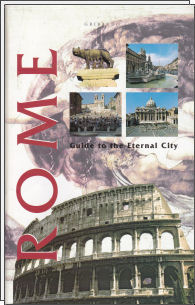 ---
aa.vv.

ROMA GUIDE TO THE ETERNAL CITY

editore GRIBAUDO
edizione 2002
pagine 194
formato 15,5x24,5
flexi cover
tempo medio evasione ordine
5 giorni

14.90 €
14.90 €

ISBN : 88-8058-341-7
EAN : 9788880583417

---