EDIZIONE TRILINGUE

INGLESE


TEDESCO


FRANCESE





From the heavy plate camera images of long ago to those snatched by the digital lightweights of today, Photo Journalism reveals the world that our ancestors pioneered, and that our grandparents and parents have handed down to us.

Here are the heroes, rogues, explorers and entrepreneurs that have shaped, exploited, and challenged this world - from the Crimean War to 9/11, from horse-drawn buses to the Space Shuttle, from the crinoline to the mini-skirt and beyond.

Here, too, is a worldwide panorama of cultures that have survived, struggled, thrived, and in some cases vanishеd in the great cloud of dust raised by the march of history. This is the camera's greatest legacy.

In over a thousand pictures, here is the story of the last 175 years, of the age that has shaped the world in which we live. Here are breath-taking images from battlefields, workshops, palaces, concert halls, streets, forests, and every tiny corner penetrated by the prying and revealing eye of the camera.
CONTENTS

PART I 1850-1918
INTRODUCTION
STREET LIFE
INDUSTRY
HOME AND TRANSPORT
SPORT
ENTERTAINMENT
ARTS
EMPIRE
PEOPLES
AVIATION AND RAILWAYS
SCIENCE AND TRANSPORT
SOCIAL UNREST
CONFLICT
WORLD WAR I
RUSSIAN REVOLUTION
CONSTRUCTION
NEW FRONTIERS
PART II 1918 TO THE PRESENT
INTRODUCTION
ASPECTS OF THE 1920s AND 1930s
THE RISE OF FASCISM
NAZISM
WORLD WAR II
POSTWAR WORLD
COLD WAR ERA
CIVIL PROTEST
CINEMA
ARTS AND ENTERTAINMENT
THE SIXTIES AND SEVENTIES
SPACE
SPORT
THE 1980s AND 1990s
THE HEALTH OF THE PLANET
9/11 AND AFTER
INDEX
PHOTO CREDITS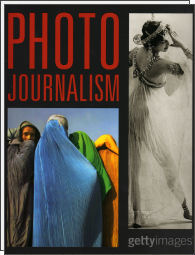 ---
Nick Yapp - Amanda Hopkinson

PHOTO JOURNALISM

editore KONEMANN
edizione 2006
pagine 800
formato 22x30,5
cartonato con sovracoperta colori
tempo medio evasione ordine
a richiesta

39.00 €
24.00 €

ISBN : 978-3-8331-2556-0
EAN : 9783833125560

---