EDIZIONE INGLESE

"The color of the Orient. the smell of the Orient. its remoteness, its mystery, its glory. Another life, another dream of a life" Georges Clairin (1843-1919)
Stretching from the Straits of Gibraltar to the Indian Ocean, this region of near endless sun and sand, punctuated by brilliant colors and ancient forms, has become synonymous in the West with the foreign and the exotic. From the days of the crusades and caravans crisscrossing continents to destinations further east, the Orient has held a special position in relation to Europe and the West. It is the birthplace of the Judeo-Christian tradition, the origin of western civilization, the inspiration for fantastical fairytales, and often a source of misunderstanding and fear. The Orient is both the West's cultural constant and its longest-existing image of the "Other."
The oriental motif is a recurring theme in western painting. From the Renaissance with its awakening interest in ancient cultures and art to the 18th century with its Grand Tours and "Turkish fashion," the oriental theme has not only documented artists' travels to the East, but has projected the wishes, desires and imagination of the West. From ethnographic etchings to exaggerated displays of the sultans' splendor, this paradox of fact and fantasy culminated in the 19th century with the genre Orientalism. Napoleon's conquest of Egypt, European colonization, and archaeological excavations opened up the region to numerous artists such as Decamps, Delacroix, Fromentin, Ingres, Lear, and Hunt, whose most famous works express oriental imagery.
At the beginning of the 20th century, the Orient began to lose its importance as a cultural paradigm in Western art. The Post-Impressionist artists Kandinsky, Macke, Matisse, and Picasso
garded the Orient in a new light and integrated
otic elements in their works, this time developing an abstract visual vocabulary to express the ideal essence of art. At the beginning of the 21st century the Orient has developed beyond the object of Western projections and established its own voice and visions for the region.
The Orient in Western Art presents the emergence and development of an artistic motif accompanied by explanations of social and cultural history.
CONTENTS

PREFACE by GENEVIÈVE LACAMBRE

INTRODUCTION:
THE PARADOXES OF EUROPE'S FASCINATION WITH THE ORIENT

ORIENTALISM FROM THE 15th TO THE 17th CENTURY
Renaissance Art and the Orient
Venice - Where East meets West Renaissance Fact and Fantasy
Near and Far - the Orient During the 17th Century
Fear and Fascination
Art and Uncertainty
Rembrandt's Orient
ORIENTALISM IN THE 18th CENTURY
The Turkish Fashion
Oriental Splendors in the Heart of Paris Turkish Masquerades and Languorous Sultanas
The First Orientalists
Pomp and Circumstances in the Drawings of Van Mour
A Swiss at the Court of the Grand Sultan
A Knight of Malta at the Court of the Caliph Constantinople Through the Eyes of Jean-Baptiste Hilair
Cassas and Goethe
Melling: Artist, and Architect to His Highness
Minor Artists of Pera
ORIENTALISM IN THE 19th CENTURY
The Conquest of Egypt
Egypt's Appeal before Bonaparte Bonaparte's Egypt
Glorifying Bonaparte's Campaign Egypt and the Arts
The New Grand Tour
Recreating Ancient Egypt
Spain, Gateway to the East
Art and the Eastern Question
The Greek War of Independence
The Rediscovery of Greece
Artists and Political Commitment
French Colonization of the Maghreb
Algeria
Morocco
Pilgrimage to the Holy Land
The Challenge of Palestine
William Holman Hunt
Constantinople
Jean Auguste Dominique Ingres
Eugène Delacroix
A Painter's Paradise
Alexandre-Gabriel Decamps
Théodore Chassériau
Eugène Fromentin
Jean-Léon Gérôme
Felix Ziem
Gustave Moreau
Orientalism and the Impressionists
Orientalists from the Orient
The Last Orientalists

ORIENTALISM TODAY
A Shift in the Center of Gravity
Victor Prouvé, the Precursor
Emile Bernard, the First Modern Orientalist
Kandinsky in Tunisia
Pablo Picasso and Les Demoiselles d'Avignon
Henri Matisse and the Image in the Carpet
Kees Van Dongen, Charles Camoin, and Albert Marquet in the Maghreb
Louis Moilliet, Paul Klee, and August Macke in Tunis
Le Corbusier and the Light of the Orient
Raoul Dufy in the Garden of the Pasha
Wyndham Lewis, a Filibuster in Barbary
New Visions of the Orient

APPENDIX
Biographies
Bibliography
Glossary
Index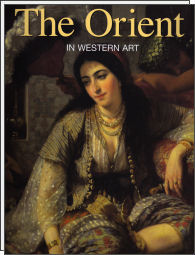 ---
aa.vv.

THE ORIENT

editore KONEMANN
edizione 2005
pagine 360
formato 26x31
cartonato con sovracoperta colori
tempo medio evasione ordine
a richiesta

39.00 €
29.00 €

ISBN : 3-8331-1961-6
EAN : 9783833119613

---