EDIZIONE MULTILINGUE

INGLESE


TEDESCO


FRANCESE


This book contains everything anyone could possibly want to know about Mercedes! It covers the changing history of the company, its glittering contribution to motor sport and the people behind this
success. But at its heart stands the product, the long cavalcade of cars produced over the years, each entry lavishly illustrated with photos and including technical specifications.

The renowned Formula 1 photographer Rainer W. Schlegelmilch tells the success story of Mercedes in his customary brilliant pictures. The informed accompanying texts were penned by passionate ring experts Hartmut Lehbrink and Jochen von Osterroth.



Tout ce que l'on peut désirer savoir sur Mercedes, l'histoire de la société avec ses péripéties, ses avatars et ses succès est contenu dans cet ouvrage. En outre, toutes les figures essentielles de cette vénérable maison sont ici évoquées. Au-delà de la firme, le personnage centrai, c'est bien la voiture Mercedes. Tous les modèles produits sont présentés à travers de magnifiques photographies et leurs caractéristiques techniques détaillées.

Rainer W. Schlegelmilch, photographe de Formule 1 renommé, illustre de manière captivante l'histoire du best-seller Mercedes. Ses images sont agrémentées des commentaires qualifiés de Hartmut Lehbrink et Jochen von Osterroth, fins connaisseurs du monde de la course automobile.
Contents
Inhalt
Sommaire


Bruno Sacco: Fascination Mercedes

Glittering years - but not always:
A Mercedes-Benz chronicle
Lichtjahre - aber nicht immer:
Eine Chronik des Unternehmens Mercedes-Benz
Les années de lumière - mais avec des zones d'ombre :
une chronique de l'entreprise

A century in white and silver:
The history of Mercedes motorsport
Ein Sakulum in WeiB und Silber:
Geschichte des Mercedes-Motorsport
Un siècle aux couleurs blanc et argent:
Mercedes-Benz l'histoire de la compétition chez Mercedes

[..]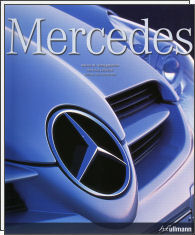 ---
Rainer W. Schlegelmilch - Hartmut Lehbrink - Jochen Von Oste

MERCEDES - ed. min.

editore H.F. ULMANN
edizione 2007
pagine 600
formato 21,5x25
plastificato
tempo medio evasione ordine
5 giorni

29.00 €
18.00 €

ISBN : 978-3-8331-3329-9
EAN : 9783833133299

---