EDIZIONE MULTILINGUA

INGLESE


FRANCESE


TEDESCO


Houses, penthouses, apartments, lofts - this book's excellent photographs offer unique -insights into more than 40 unusual and quite different examples of residential architecture from around the world.
An elegant apartment high above the roofs of New York, a Swiss wooden chalet with a fantastic view of the Lago Maggiore, the outlandish loft dwelling in Vienna or the cool L-shaped architecture in Yokohama: all the residential properties depicted have been designed by internationally renowned architects and designers whose biographies are presented alongside their visions and creative concepts.



Maisons, penthouses, appartements, lofts - les photographies remarquables de cet ouvrage offrent un apergu unique sur plus de quarante exemples d'architecture résidentielle exceptionnels. Un appartement qui surplomble les toits de New York, une maison en bois bénéficiant d'une vue fantastique sur le lac Majeur, un loft à l'architecture originale à Vienne ou un édifice sobre construit sur un plan en L à Yokohama : toutes les résidences décrites et photographiées ont été congues par des architectes et des décorateurs de renom qui nous livrent les cheminements de leur pensée et de leur travail.



Hàuser, Dachwohnungen, Apartments, Lofts - die hervorragenden Fotografien dieses Buches bieten einmalige Einblicke in liber 40 auBergewiihnliche und ganz unterschiedliche Wohnarchitekturen aus der ganzen Welt.
Vom eleganten Apartment hoch iiber den Dàchern New Yorks, einem Schweizer Holzhaus mit fantastischem Blick auf den Lago Maggiore oder der ausgefallenen Loftwohnung in Wien bis hin zu der L-fórmigen, kiihlen Wohnhausarchitektur in Yokohama: Alle abgebildeten und beschriebenen Wohnobjekte sind von international renommierten Architekten und Designern gestaltet, deren Biografien ebenso vorgestellt werden wie ihre Visionen und Gestaltungskonzepte.
SUMMARY SOMMAIRE INHALT

Introduction

HOUSES
Gama-Issa House
City Hill House
House in Honda
Beach House
Casa Larga
House in Miravalle
Castor Packard House
May Residence
C-House
Fung + Blatt House
Du Plessis House
Las Encinas Residence
Double-L

ATTICS
Phillipps / Skaife Residence
Abbot Kinney Lofts
Brooklyn Loft
Vertical Loft
House in Kuessnacht
Shoreditch Conversion
Residence in Gracia
Motoazabu Housing Complex
Rooftop
Ray 1
Bay Cities Lofts: Phase II

APARTMENTS
Olympic Tower Residence
House T
288 London Mews Conversion
Flatiron District Loft
Flexible Loft
Sempacher Apartments
Loft in Tribeca
Small Loft in Vienna
Lords Telephone Exchange
House in the Coast

LOFTS
Ling Office and Loft
Light Loft
DeBenedetto / Jiang Loft
TB Guest Loft
Loft in Soho
Frank and Amy Loft
Giobbi / Valentino Residence
Directory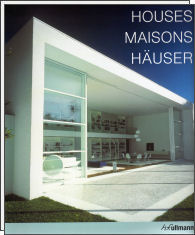 ---
aa.vv.

HOUSES

editore H.F. ULLMANN
edizione 2008
pagine 432
formato 22x25,5
plastificato
tempo medio evasione ordine
ESAURITO

25.00 €
25.00 €

ISBN : 978-3-8331-4899-6
EAN : 9783833148996

---