EDIZIONE MULTILINGUA

ITALIANO


INGLESE


SPAGNOLO


PORTOGHESE

INTRODUCTION

Europe has more than one reason to believe its spas are special. From steam baths in the Turkish hamrrarn. wine therapies in France, thalassotherapies in Greece and even Alpine thermal baths, the continent has a vide network of establishments that claim their identity based on a custom that has been followed for many centuries. The most recent addition to the European model is fitness. Nowadays, gyms are an essential part or the endeavors that conceive wellbeing not only as a pleasant and relaxing experience, but also as a produci or physical activity. Design is another great element that makes the spas of the Old Continent stand apart. They awaken the interest of great architects and interior designers that do not hesitate to leave their imprint in these spaces. Golf spas, ski resorts, thermal resorts and health clubs are some of the new options available for a public that is eager to combine hobbies with relaxation and with the desire of escaping the daily routine.



L'Europa ha più di un motivo per ritenere che le sue terme siano speciali. Dai bagni di vapore degli hammam turchi alle terapie del vino in Francia, alle talassoterapie della Grecia e addirittura ai bagni termali alpini, dispone di una fitta rete di stabilimenti che rivendicano la loro identità sulla base di una tradizione secolare. L'annessione più recente al modello europeo è quella del fitness. Le palestre sono divenute oggi un elemento essenziale per la ricerca del
benessere concepito non solo come esperienza piacevole e rilassante, ma anche come risultato dell'attività fisica. Il design è un altro elemento importante che rende uniche le terme del Vecchio Continente. Queste risvegliano l'interesse di grandi architetti e di interior designer che non esitano a lasciare la loro impronta in questi ambienti. Golf spa, località sciistiche, località termali e health club sono alcune delle nuove opzioni disponibili per un pubblico che desidera associare hobby e relax dimenticando per qualche giorno la routine quotidiana.
INDEX

lntroduction

Country Spas
Spa at the Hotel Marqués de Riscal
Akari Spa
La Prairie Clinic Spa
G Spa
La Reserve
Maryborough Hotel and Spa
Spa Termas de Villalba
Kohler Waters Spa
C-Side
Spa at the Byblos Art Hotel
Terme di Saturnia Spa & Golf Resort Balance Resort Stegersbach Merano Thermal Baths Samas Spa
Blue Lagoon

Mountain & Seaside Spas
Wellness Centre Tschuggen Bergoase Alpen Therme Gastein Spa
Arlberg-well.com
Thalasso Spa Fenicia
Spa Néocéa
Virgilius Mountain Resort
Porto Elounda De Luxe Resort
Balance Center & Spa
Therme Aqua Dome

Urban Spas
Yi-Spa
Beau-Rivage Palace Hotel Spas
Health Club at Andel's Hotel
Health Club & Spa Metropolitan Gran Vía
Caroli Health Club La Moraleja
Aspria Spa & Sports
Tapiola
SpaciOmm
Hotel Arts Spa
Wave Urbanspa
Notos Spa
Spa Paraiso at the Aleph
New York Palace Hotel Spa
Thermae Bath Spa
ESPA by Gianfranco Ferré

Directory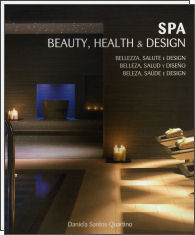 Daniela Santos Quartino

FKG - SPA BEAUTY, HEALTH & DESIGN

editore FKG
edizione 2008
pagine 300
formato 19,5x24
plastificato con alette
tempo medio evasione ordine
ESAURITO

19.90 €
19.90 €

ISBN : 978-84-96936-60-7
EAN : 9788496936607

---