EDIZIONE INGLESE





One cannot define the British sports car as a species of, as it were. insular aрpearance, on the north west fringe of Europe. It is not that simple. In a very particular way British sports cars reflect the structure of British society, with its class structure and contradictions. There are the aristocrats, right up to the majestic Bentley 4 1/2 litre supercharged model of the late twenties, or the Aston Martin Vanquish of today. At the other end of the wheel-based social scale are the purveyors of sporty mobility for the lower classes, like the MG ТС or the Austin Healey Sprite. Somewhere in between, a man like Jaguar boss Sir William Lyons literally made it his mission to make his fine creations accessible, even to people who could not really afford them.

Sports cars for millionaires, sports cars for millions. The world owes the latter to a phenomenon that Enzo Ferrari contemptuously called the British DIY mentality. He was referring to the British Formula 1 racing cars, but he probably also had in mind the road vehicles made by his British competitors. The recipe is simple: take an engine, drives, axles, instruments, gear levers and switches from the anonymous stores of the big series, add a robust chassis and dress the lot in an attractive, original or maybe even breathtaking design. Buying windscreen wipers at a low price from an outside source is much cheaper than designing and making them yourself, said Walter Hayes, top man for a time at Aston Martin. And lo, the cars had personality and charisma, they were wonderfully youthful, the dream of entire generations. For the whole is generally much more than the sum of the parts, particularly as passion always played a part, the devotion of the men who made the cars and are still making them, and the love of those who are in a position to drive them. So far about two and a half million British sports cars have been produced, from the bestselling MGB with its huge total of 513,272 roadsters and coupés to the exotic Jaguar XK SS, which only 16 fortunate people were able to own.

We hope this book will give the reader an overall impression. It was not possible to give an exhaustive account and we have had to limit ourselves to a representative selection, which is therefore subjective.
FOREWORD by Lord Montagu of Beaulieu

AC Ace & Aceca
ALLARD J2X
ALVIS TB 21
ASTON MARTIN
International
DB1
DB2
DB4
DB6
DBS V8/V8
Virage/V8
DB7
Vanquish
AUSTIN-HEALEY
100
Sprite
3000
BENTLEY 4 1/2-Liter Supercharged
BRISTOL 404
CATERHAM
Seven
21
CATERHAM CARS LIMITED
DAIMLER SP250
ELVA Courier
FRAZER NASH Mille Miglia
GINETTA
G4
G27
GINETTA CARS LIMITED
HEALEY Silverstone
H.R.G. 1500
JAGUAR
SSI & Jaguar SS100
XK120
XK150
XKSS
E-Type V12
XJ-S
XJ220
XK8
CONNOLLY LEATHER LIMITED
JENSEN
541
Jensen-Healey
JOWETT Jupiter
LEA-FRANCIS 2 1/2-Liter Sports
LOTUS
Elite
Seven
Elan
Europa
Lotus Elan +2
Elite & Eclat
Esprit
Esprit Turbo
Elan
Elise
Exige
LOTUS CARS LIMITED
MARCOS
GT
Mantara
McLAREN F1
MG
J2
TA
TC
TD
TF
MGA
MG Midget & Austin-Healey Sprite
MGB
MGF
MORGAN
Three-wheeler
4/4 Series 1
Plus 4
4/4 Series II and later
Plus 8
Aero 8
CHARLES MORGAN
MORGAN MOTOR COMPANY LIMITED
PHANTER Kallista
RELIANT Scimitar SSI
RILEY
Brookelands Nine
Sprite
RMC Roadster
SINGER Roadster
SUNBEAM
Alpine
Tiger
SWALLOW Doretti
TRIUMPH
Roadster
TR2
TR3
TR4 & TR5
Spitfire
GT6
TR6
Stag
TR7 & TR8
TVR
Grantura
Vixen
M-Series
Tasmin & derivatives
Griffith
Cerbera
Tuscan
TVR ENGINEERING LIMITED
WESTFIELD Seven

APPENDIX
Specifications
Index
Acknowledgements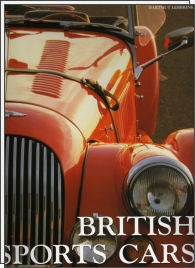 ---
Rainer W. Schlegelmilch - Hartmut Lehbrink

BRITISH SPORTS CARS

editore KONEMANN
edizione 2005
pagine 440
formato 29x25,5
cartonato con sovracoperta colori
tempo medio evasione ordine
a richiesta

39.00 €
28.00 €

ISBN : 3-8331-1154-2
EAN : 9783833111549

---